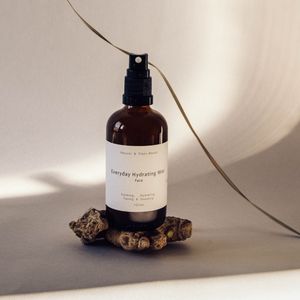 EVERYDAY HYDRATING MIST
A light and delicate everyday mist to soothe, calm, and balance tired, dull, and stressed skin. It hydrates the skin with active humectants: Rose Water, Aloe Vera Juice, and Hyaluronic Acid — a powerful antioxidant blend — that is anti-bacterial, pH balancing and promotes the absorption of nourishing products such as serums and creams. Its rose aromatherapy helps, relax the mind, and spirit.


Key Ingredients
Rose Water —The use of rose water is an ancient, natural beauty ritual that has managed to withstand the test of time. Its antibacterial, antioxidant, astringent, and anti-aging properties all contribute to its ability to control excess oil, hydrate, maintain the skin's pH balance, can reduce bacteria on the skin, decrease inflammation and simultaneously hydrate skin. It's calming and relaxing.

Aloe Vera Juice — Aloe vera is a rich source of antioxidants and vitamins that may help protect your skin, repair the skin from UV damage and prevent fine lines and wrinkles.

Hyaluronic Acid — It's a substance that is found naturally in the skin. It helps to keep the skin hydrated since it retains water in the epidermis. It can also help boost collagen production.
 How to use:
 Shake the bottle gently to disperse the active botanicals. Close your eyes, mist over your face and neck and throughout the day whenever you are in need of a hydration boost. You can also mist over an eco-friendly pad and apply it to the face. Complete with serum to lock in moisture.
Ingredients:

Rose Damascena Hydrolat,  Hyaluronic Acid, Aloe Vera Leaf Juice, Rose Oil.
Size: 100ml
Só fresh
The skin Stay só fresh like small Rain came from the sky ,i going to tchange my old produts as they finish ,for this ones
I m in love